Message from the Director, Professor Sagara Chandrasekara
It is my immense pleasure to welcome you to the Institute of Human Resource Advancement (IHRA) of the University of Colombo. I am proud and honored to introduce the IHRA, the one and only university-level institute of employee education in Sri Lanka which is affiliated with the University of Colombo, the number one university in Sri Lanka. IHRA facilitates individuals with the passion and commitment to learn and, grow beyond what they had ever dreamed they could. Our vision is to be a Centre of excellence in teaching, learning and researching to strengthen human resources for the development of a progressive society within the global context. IHRA provides nationally competitive and internationally recognized opportunities for learning, research and development for a diverse group of managerial, and non-managerial employees and entrepreneurs with a focus on competency development in leadership, entrepreneurship and critical thinking with high social and ethical standards through competent and dedicated staff and state-of-art technologies and methods of human resource development.
During your journey at IHRA, you may practice unique learning opportunities and experiences that broaden and deepen your ability to be highly effective employees. The development of self-knowledge is a key focus since it is the foundation for highly effective and successful employment. The outcome we strive is future global employees in their chosen careers, and professions, and possess community grounded in functional, emotional, and situational skills. The IHRA's mandate is to "Promote Employee Higher Education in Sri Lanka" and remains as the country's only university-level higher educational institute for employees. By now, IHRA has produced over 2500 graduates and another 2000 master's degree holders. Thus it also produced a large number of diplomas and certificate holders.
IHRA ensure to improve of its students' knowledge, skills, and attitudes across all academic programs, including Certificate Courses, Diploma Programs, Undergraduate Degrees, and Master Degrees. And we all are aware that the teaching-learning process and research are inseparable components of higher education. Therefore, IHRA academic staff carry out their academic work based on these three pillars while ensuring academic freedom. We welcome you to explore the great and exciting opportunities that IHRA offers in developing your skills, abilities and talents that will enable you to achieve your life's mission and contribute to a progressive society.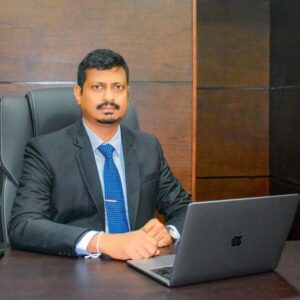 Director
Professor Sagara Chandrasekara
Contact
director@ihra.cmb.ac.lk
sagara@ihra.cmb.ac.lk